The tram is a good way to limit CO2 emissions during your business meeting in Strasbourg. Here are a few reasons why.
MyTicket: the special Strasbourg convention ticket
MyTicket is a special transport offer for when you're organising a convention, seminar or symposium in Strasbourg. The transport ticket is valid for 3 days (for the price of 2), and allows unlimited travel by tram and bus.
The MyTicket offer is valid for seminars and conventions in Strasbourg. Offer your seminar participants a handy way to get around!
With just one ticket, participants can travel easily in Strasbourg, from the station to the Palais des Congrès or their seminar room, then to their hotel… This is a very handy solution! It also offers the opportunity to explore the city and its rich heritage (part of which is a listed UNESCO World Heritage Site – more about that later).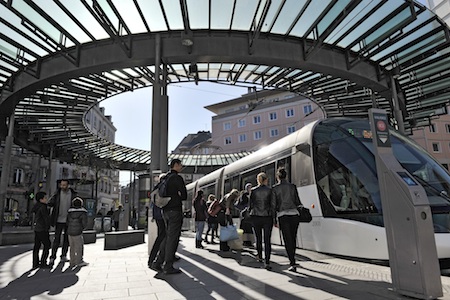 Station Homme de Fer – © CUS – P. Bogner
Opt for green transport for your next seminar in Alsace
Strasbourg is a compact city with an excellent public transport system. It's very well served by its 7 tram lines. In fact it's the number one tram network in France with 65 km of tracks.
To this we can add 500 km of cycle paths, Vélhop stations all over the city, large bicycle parking facilities (something it has in common with Germany, in fact) etc. You could say Strasbourg is a green city! And with pollution peaking at the start of spring, it's best to choose green transport! Fortunately that's easy in Strasbourg.