The Cité du Train Railway Museum has been awarded 3 stars in the Michelin Green Guide, an honour held by just a handful of museums!
What do the 3 stars actually mean?
The authors of the Michelin Green Guide focus on 9 criteria when they assess a town or a region or a tourist attraction: first impressions, the reputation of the place, the richness of its heritage, its labels, its historical significance, beauty and appearance, authenticity, visitor-friendliness and the quality of its reception.
Sites with 1 star are assessed as being interesting. With 2 stars the site is worth a detour. But a place which is classed as 3-star is even more attractive – it is worth the trip! Other sites can be listed in this guide without having any stars and are simply recognised as places of interest.
With its 3 shiny Michelin Green Guide stars, the Cité du Train Railway Museum is therefore guaranteed to be a top quality tourist attraction which can also host superb events among its collections.
There is another 3-star museum in Mulhouse, too – the Cité de l'automobile Car Museum!
The Cité du Train Railway Museum – the venue for your next seminar?
The Cité du Train is home to a superb collection of 19th and 20th century European trains and locomotives. The 15,000 m2 exhibition area can also be used for organising professional events. You can enjoy a cocktail, for example, surrounded by the collection, or a business dinner in the restaurant coach. And if you need somewhere to hold a meeting or training seminar with your staff or partners, then it's full steam ahead to the meeting rooms!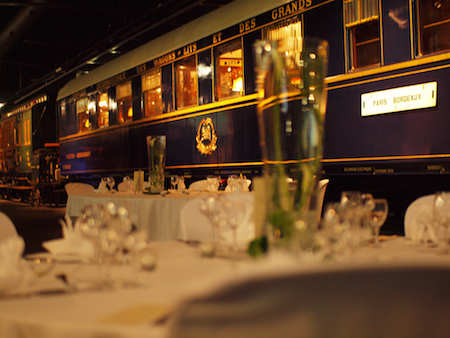 © Cité du Train
After your seminar or meeting is over, you'll have the chance to admire the old locomotive collections, the Lalique coach made in 1925 for the President of the Republic and a host of other unique exhibits…
Contact Mulhouse Tourist Office and Convention Bureau to find out more!