Alsace is a land of treasures and culture, and you can explore its heritage at a series of conferences, a residential seminar or a team-building event!
A team-building event in La Grande Ile, Strasbourg
Did you know that the historic centre of Strasbourg is a UNESCO World Heritage Site? To see more of it, why not set off on a treasure hunt! This team-building activity is an ideal way to explore a new city, enjoy a change of scene and take in some culture, while strengthening the bond between colleagues. You will discover the Petite France quarter, the cathedral and many other architectural treasures.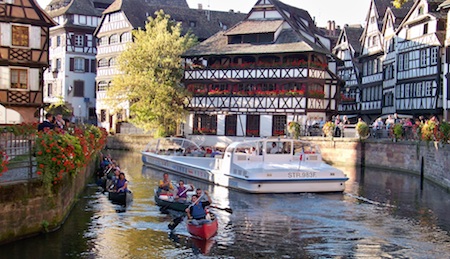 Petite France – ©Takamaka
In Strasbourg, you can organise your professional gatherings at authentic historical and prestigious sites. A range of hotels and other seminar venues can accommodate your business and offer an ideal working environment at the heart of the city. In addition, the Neustadt quarter is undergoing certification as a UNESCO World Heritage Site!
Consider opting for the tram to benefit from the services provided to make transport easy!
A seminar at the foot of Haut-Koenigsbourg Castle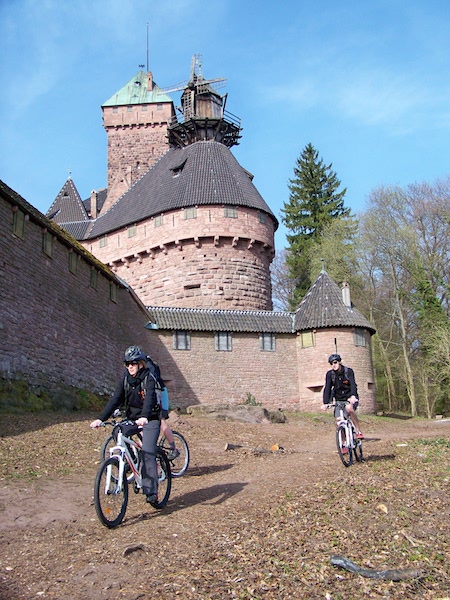 VTT autour du Haut-Koenigsbourg – ©Takamaka
Haut-Koenigsbourg Castle offers breathtaking views of the Alsace plain. This is one of the region's must-see sites. This medieval castle is a listed historic monument (like so many other castles, abbeys, chapels, churches and houses in Alsace).
Organise your seminar at the foot of the castle, at Val-Vignes (Saint Hippolyte). With 400 m2 of modular rooms, technical equipment provided, and a number of areas to relax, it has everything for a 3 *** stay in a region with a rich, diverse heritage.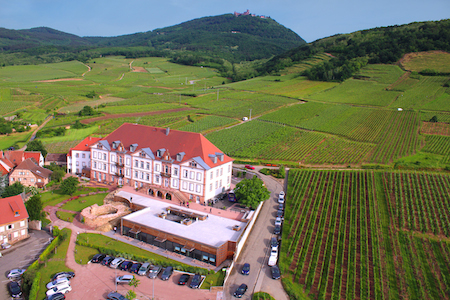 © Val-Vignes
In fact, you won't be able to see everything in just one visit… When you come back to Alsace for business tourism (and you're sure to want to come back), maybe you'll opt for a seminar at a golf course + hotel? Don't hesitate to contact us to organise your seminar in Alsace!