The Maison Joseph Cattin, located in Voegtlinshoffen, only a few kilometres away from Colmar, welcomes you in an unbelievable setting at the heart of the vineyards! Thanks to the incomparable view of its Belvédère room and its many activities, make sure your event is unforgettable!
Your business event at the Belvédère
Nestled in the heart of the Alsace Wine Route, the Belvédère is the ideal place for your business events! This panoramic room offers you a multi-function area adapting to your needs: from 90 m² to 215 m² to welcome up to 230 people!
This bright room also has all the necessary equipment for your event:
Wi-Fi connection
Furniture
Screen and video projector
Microphone and sound system
Air conditioning
Bar and kitchen
Since it directly overlooks the panoramic terrace, you will be able to enjoy an extraordinary view of the vineyards, the Vosges, the Alsatian plain, the Black Forest and even the Swiss Alps, if it's nice weather!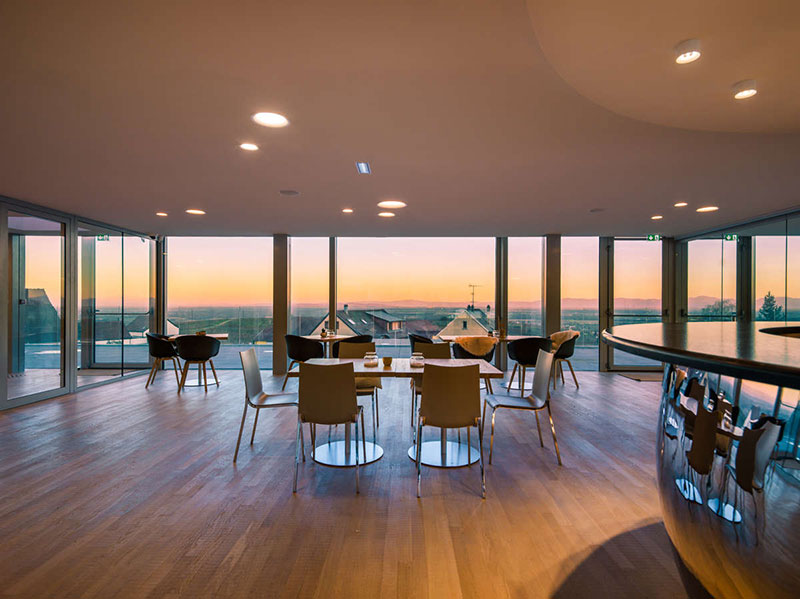 Wine-tourism activities
After a meeting, enjoy a break with your colleagues and try the activities offered by the Maison.
A tour of the wine cellar and a commented tasting to discover the secrets of Alsatian Wines.
Discover the vineyards on foot, by bicycle or by Segway and enjoy the sumptuous landscapes to understand the local richness.
Having dedicated itself to vineyards and the production of wine for almost three centuries, the Maison Cattin is a lively place to socialise which will offer you unforgettable moments!