Welcome to Kientzheim, a traditional winemaking village in Alsace in the Haut-Rhin. Here you'll find a beautiful castle ideal for hosting functions.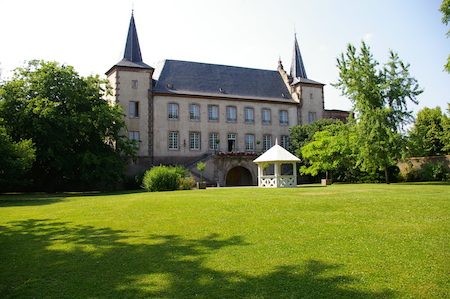 Le château © Confrérie Saint-Etienne
La Confrérie Saint-Etienne in brief
La Confrérie Saint-Etienne is one of the oldest wine societies in France. The château dates back to the 16th century. The Winemaking and Alsatian Wine Museum lies in La Confrérie. Here's another highlight: this site is home to the world's largest collection of Alsatian wine (60,000 bottles are stored in the cellar, the oldest dates back to 1834). What more reason do you need to host your event at La Confrérie Saint-Etienne!
A bespoke professional function
It hosts events for the general public (gala meals, ceremonies, tasting and food/wine matching sessions) but the venue is also available to companies for product launches, team building and seminars.
Your function can last one day or more. All the equipment you need is provided for your meetings or conferences (audio, video, Wi-Fi etc.). La Confrérie has 4 function rooms accommodating 50-200 people.
A range of services help your event to run smoothly: car park, catering, equipment hire, security, decoration, photography, entertainment and more.
You can also just hire the château without any related services.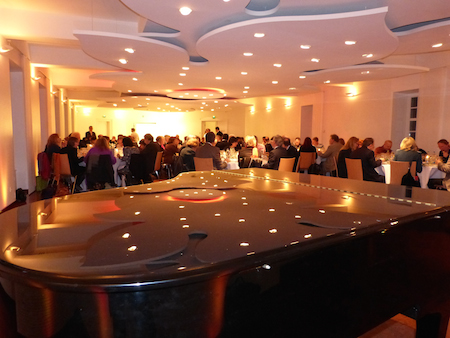 Un dîner de gala prestigieux © Confrérie Saint-Etienne
Food and wine: get the best of the best!
You have a wide variety of options for your meals from a cocktail party with nibbles to a gourmet menu (with the involvement of Michelin-starred chefs). Please note that you will only be served Alsatian wines approved by the Sigille, a label awarded by La Confrérie, which has existed since 1957. All the award-winning wines are stored in the cellar.
As for leisure activities, the choice is yours!
There are lots of team building activities to choose from: tasting, archery, hot-air ballooning, evening entertainment, wine cellar workshop, museum trip etc. What motivates you? What suits your team building event best? The team at La Confrérie is here to help you.
Find out more: www.confrerie-st-etienne.com
Image