The best deal of the week: save time by organising a day with your associates in the airport itself! Here at Bâle-Mulhouse Airport, there is a business centre entirely devoted to organised meetings.
Meet up at the EuroAirport Business Center
If you are bringing together stakeholders or participants from all over France or Europe, what better than to organise your conference or talks within the airport itself? You will enjoy the many advantages of this solution, including reduced transport costs, more actual meeting time and less impact on the environment.
More time, less stress…everyone arrives at the scheduled time and the day can actually be devoted to the meeting or the training!
In practice
10 fully equipped and modular meeting rooms (for between 2 to 90 people) are available at the EuroAirport Business Center, all with exceptional views. You can hire them by the hour, for half a day, a full day or for a week.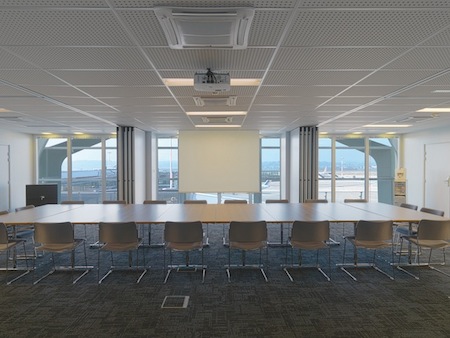 A café, mini bar and restaurant are a stone's throw away from your conference or seminar venue, and there is a team available to help you with any requests and to tailor your day to your requirements.
Employees from the Mulhouse, Bâle and Freiburg region are guaranteed a parking space.
For further details, please go to: http://www.congres-mulhouse.com/50-a-100-personnes/euroairport.html?t=1