What is "Les Dominicains"? It's an original and relaxing historic setting for your general assembly, gala dinner, product launch, training or symposium… Not be missed!
The context: a Cultural Centre in a former monastery
This Cultural Meeting Centre is housed in a converted 14th century monastery, at the foot of the vineyards of Guebwiller (between Colmar and Mulhouse). It is strongly orientated towards the digital arts and hi-tech, making it a unique and inspirational venue! With breathtaking acoustics, lighting and stage effects: the contrast between tradition and modernity is absolutely remarkable.
Here is an example of what happens at Les Dominicains: a night-time event was organised on the evening of the spring equinox, with a sound and light show from 10 p.m. Throughout the year, there are shows and concerts (ranging from classical to contemporary music) and the invitations made to resident artists are a proof that this is a dynamic, innovative, living venue!
An original idea: a dinner or company evening at Les Dominicains
Why not reserve Les Dominicains for a special evening or day? The venue is rich in history, spirituality, and has a wide range of features on offer for your business event.
Each room has its very own atmosphere:
Nave, 640 m2
Cloister (partly open-air), 440 m2
Upper Choir, 153 m2
Summer dining hall, 145 m2
Jazz cellar, 90 m2
Meeting room, 54 m2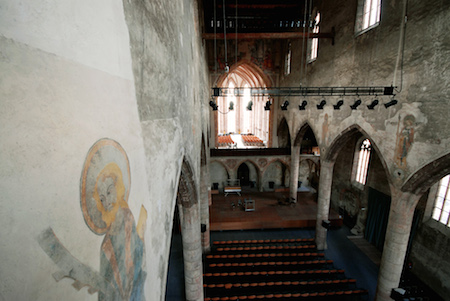 Vue plongeante sur la Nef © Walter Galvani
A sound and light control room is available, along with a list of approved caterers for onsite service, and we can also recommend several partner hotels.
To give an example: during the France Meeting Hub, the participants listened to a piano concert in the NAVE, while lying down on mattresses. Something they will probably remember for a long time to come!
Please don't hesitate to contact us to organise your business tourism trip to Alsace.
For more information: www.les-dominicains.com