Are you looking for an exceptional seminar venue in Alsace? The Haras de Strasbourg is the perfect place for you! Its location in the heart of the city makes it the ideal venue for blending business and pleasure.
High-end services in an exceptional setting
In 2010, the IRCAD (Institut de Recherche contre les Cancers de l'Appareil Digestif, or the Research Institute Against Digestive Cancer) launched a restoration project to renovate the Strasbourg National Stud Farm. The buildings, which have been declared historical monuments, were renovated in a unique style that marries tradition and modernity with an equestrian-inspired interior design. They include, among others, a biocluster with a conference centre, a four-star hotel, and a brasserie run by the three-starred chef Marc Haeberlin. This is the ideal place to bring together your teams and your partners in a one-of-a-kind location!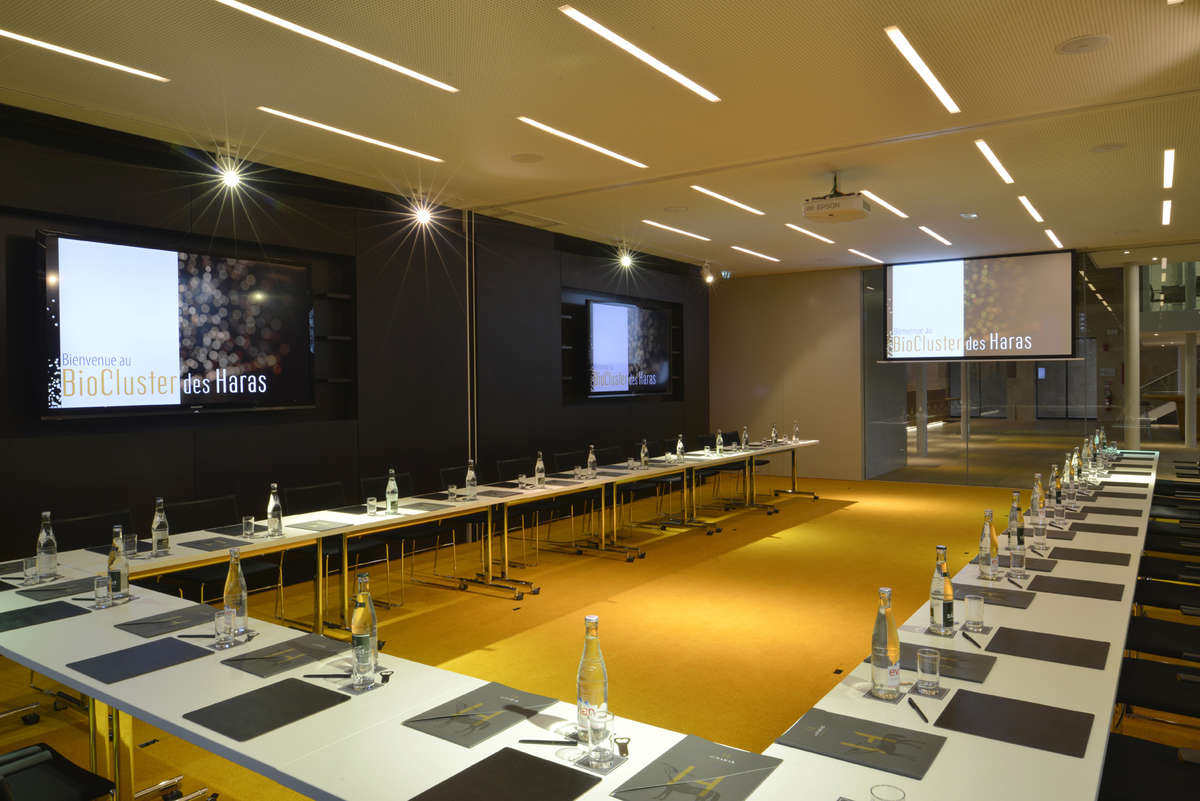 Ideal location in the heart of Strasbourg
The Haras Biocluster is located 50m from the IRCAD and is home to innovative start-ups specialised in the field of medical-surgical development. The 90m² Haras Conference Centre is thus perfectly placed in an area particularly conducive to medical innovation and research.
Situated in the former riding school, the conference centre can adapt to your needs: it has a capacity of 90 seats, and can be divided into 2 rooms of 40 seats each. The conference centre is equipped with cutting-edge material to ensure that your conference goes smoothly, and boasts full HD video equipment and a double-screen video conference system. A second meeting room can seat 12 people around an oval table, while the lobby is ideal for cocktail parties and can host 150 guests.
But this is not the only advantage of this unique conference venue! Situated in a quiet area, its central location makes the Haras an excellent departure point for your incentive activities and for taking in all the cultural treasures that Strasbourg and its environs have to offer!