Alsace is a combination of an outstanding wine-growing terroir and a genuine culture of sharing. Why not explore the finest vintages in Alsace and their kingdoms, from the north of the region to the south, and include a trip out on the Alsace Wine Route in your seminar? 
Thann: Rangen, the southern pearl of the Alsace vineyards
Rangen is an absolute must for several reasons. Situated in the villages of Thann and Vieux Thann, close to Mulhouse, it is the southernmost vineyard in Alsace. It is also the only one in the region to be well-established on a terroir of volcanic rock, which gives its Pinot Gris, Riesling and Gewurtzraminer their unique character. The 22.12 hectares of this vineyard are fully classified as grands crus. A tour of its cellars is essential during your seminar in Mulhouse.
Guebwiller: the rocky outcrop of Kitterlé and its unique wines
To the north of Guebwiller, not far from Mulhouse, stands Kitterlé, majestically overlooking the land. With a sandy soil which only allows a limited yield and a unique location where it is bathed in sunshine, Kitterlé produces rare and distinguished wines. The Riesling, Gewurtzraminer and Pinot Gris grape varieties grow well here and contain the very essence of what makes Alsace wines unique.
Soultzmatt and Westhalten: discover Zinnkoepflé, the backdrop for Gewurtzraminer
A few kilometres from Colmar is Zinnkoepflé, 71 hectares of exceptional terroir stretching over a steep hill with a hot, dry micro-climate which, combined with a chalky soil, produces very aromatic, powerful wines. Gewurtzraminer flourishes here and you can discover its intense colour and extraordinary aromatic palette, like nothing you have ever tasted before.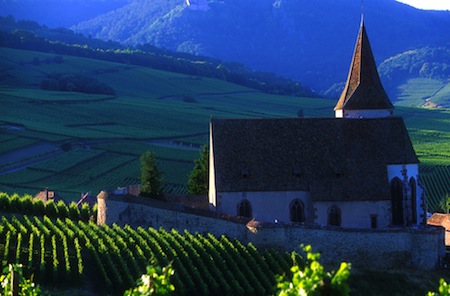 Eglise de Hunawhir © Christophe Meyer ADT Haut-Rhin
Ammerschwihr: spotlight on the magnificent Kafferkopf
Situated between Katzenthal and Kientzheim, not far from Colmar, the charming village of Ammerschwihr is home to one of the nuggets of the Alsace vineyards – Kaefferkopf. With full eastern exposure and an average incline between 10 and 20%, Kaefferkopf is probably one of the most iconic terroirs famous for Riesling, Gewurtzraminer and Pinot Gris. You simply have to go for a tasting in the cellars during your seminar at Colmar, where, better than anyone else, the winegrowers can introduce you to all the subtleties of these great vintages.
Andlau and Eichhoffen: Monchberg, the kingdom of Riesling
To the north of Sélestat nestles a hillside barely covering 12 hectares, but what a hillside! Monchberg is home to one of the oldest vineyards in Alsace, at the heart of which flourishes Riesling. Fruity and robust, this grand cru can also be laid down. Try it out for yourselves, at the bend in one of the lovely neighbourhood roads, in a cellar lovingly tended by the winegrowers who have been cultivating this hillside since the dawn of time, or so it seems.
Bergbieten: the excellent Altenberg
To the west of Strasbourg, at the northern edge of the Alsace vineyards, flourishes Altenberg de Bergbieten. A terroir of 29.07 hectares bathed in sunshine and with very consistent soil – all it takes for Riesling, Gewurztraminer, Pinot Gris and Muscat d'Alsace to feel at ease, since the Middle Ages, in fact. Don't miss out on a tour of the cellars during your seminar in Strasbourg to discover the subtle charms of these grands crus.
Including an Alsace wine-tasting tour in your company seminar is a fantastic way of making it a friendly and memorable event! Please get in touch with your dedicated contact person in Mulhouse, Colmar or Strasbourg.