Organise your event in Colmar
---
Colmar, is centrally located at the heart of both Alsace and Europe, easily accessible and a prime destination for business tourism. As the capital of Alsace wine, this modern mid-sized city boasts a welcoming atmosphere, art de vivre, culture, and remarkable heritage. The event facilities can be adapted to your needs, ensuring everything in place for a successful meeting. Additionally, numerous leisure activities are on offer, for unforgettable moments with vineyards and foothills as a backdrop.
Colmar Convention Bureau, your partner for organising events​
The Colmar Tourist Office and its region has an internal receptive structure specialized in business tourism: the Colmar Convention Bureau, composed of an expert team of the destination.
The Colmar Convention Bureau is a specialised service within the Tourist Office of Colmar and its region, your preferred partner for organising and facilitating your corporate events in and around Colmar.
As your sole point of contact, the bureau provides comprehensive assistance for planning and executing your corporate events. With its in-depth knowledge of the local landscape, the Convention Bureau will analyse your specific needs and guide you throughout the process, guaranteeing the success of every professional event.
From simple advice to tailor-made events, we offer personalised guidance to make your Colmar experience a success!
Offers & facilities
Hotel capacity
1,784 rooms in Colmar's city limits
2,407 rooms in the greater Colmar area
Diverse accommodation options
Two 5-star hotels in the heart of Colmar for upscale accommodations
2 5 star hotels in the heart of Colmar for an offer that goes up in range
Charming hotels, combining historical charm and modern comfort, alongside hotel chains
Large-scale conference venues
Colmar Expo, exhibition and congress centre

With an area of 43,500 m² (including 16,500 m² of covered spaces) Colmar Expo is the perfect venue for hosting your events, conferences, seminars, concerts, and shows.
6 halls (1,250 to 4,200 m²)
1 auditorium (300 to 1,300 seats)
Conference area (8 modular rooms from 96 to 439 m²)
2 theatres
10 catering areas
Fenced and well-lit parking (3,000 spaces)
1 event bus route on request
L'Espace Auguste
A conference venue in the heart of Colmar with nearby hotels
Amphitheatre, 300-seat multimedia room
1 auditorium with 140 seats
14 meeting rooms spread over 3 levels
A 430 m² reception and welcome area
Private parking with 200 spaces
Prestigious Venues
Unterlinden Museum
This provincial fine arts museum is one of the most visited museums in France: an architectural site brimming with history and a prestigious event location
La Piscine in the former municipal baths converted into a 438 m² event hall that can accommodate 400 people (standing for cocktails); 300 people (seated for conferences); 258 people (seated for gala dinners)
The 13th-century cloister spanning 348 m² can accommodate 250 people (standing for cocktails); 150 people (seated for gala dinners)
The Louis Hugot seminar room, a modular space of 81 m²: 80 people (standing for cocktails); 70 people (theatre-style seating); 25 people (seminar-style seating)
The orientation room, a space in the heart of the museum available for private events for 50 people (standing for cocktails); 40 people (seated for gala dinners)
Les Catherinettes

A former convent with 400 m² of event space that can accommodate up to 500 people
Le Koifhus

A 15th-century former customs house, fully renovated in 2021, with 700 m² of event space for 20 to 200 people
The municipal theatre

Capacity for up to 450 people
Incentive activities and team building
For fostering team bonds and cultivating positive emotions in the workplace, we offer a selection of incentive experiences: gourmet activities and a fun exploration of the Wine Route, as well as sports and wellness activities. Alsace is an ideal playground!
On the blog : popular articles on Colmar
On the blog : popular articles on Colmar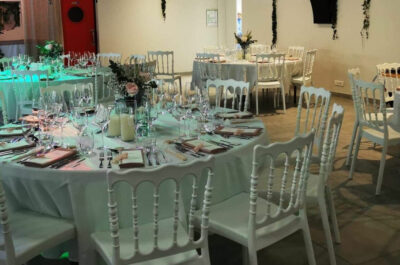 An event space with a view! Located just 10 minutes outside Colmar at the start of the Munster Valley, L'Espace 137 is an ideal setting for professional meetings with its versatile Grand Hall and its 700 m2 gardens surrounded by vineyards. L'Espace 137 is in the...